Utah College Guide
(PDF Version) *Please note that this is the 2019-2020 edition, and some of the programs and scholarships mentioned, such as UtahFutures.org and the Regent's Scholarship, are no longer available. The general information is accurate.*
College Guide (Spanish)
College and Career Readiness Parent Toolkit
Copper Hills High School Graduation Requirements
Arena Scheduling Preparation Guide
Extra Class & Make Up Credit Options
What's the Difference? AP vs. CE vs. IB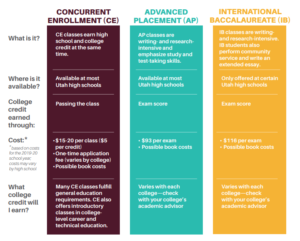 International Baccalaureate Programme Information
Job Outlook Guides
Jordan Academy for Technology and Careers
JATC Program Guide 2021-2022
Spanish JATC Program Guide 2021-2022
Courses Outside of the School Day:
Utah Students Connect: Online, now available for credit recovery only. $45 per quarter credit. See your counselor for more information.
Northridge Learning Center: Packets can be order online or in person, $50 per .25 credit. Packets must be completed within 90 days.
Utah Online School (UOS): Online, free courses offered through a free public school for all Utah students.
Statewide Online Education Program (SOEP): Online courses that replace one class during a regular school day.
Financial Aid Resources:
*Please note the Paying For College Guides is the 2019-2020 edition. Some information may be out of date, such as deadlines.*
Scholarship Websites:
Shmoop ACT Prep