INTRODUCING STANDARDS-BASED GRADING
Sunset Ridge Middle School is moving to Standards-Based Grading. We are excited to implement a new grading system that accurately reflects what our students know and are able to do.  When you log in to Skyward to check your students grades, each class will only have three grading categories: Assessments; Practice; and Citizenship. A student's academic grade will reflect the level of proficiency they have achieved in relationship to the standard they are learning.  A "4, 3, 2, 1" scale is used to identify the level of proficiency a student has achieved on a particular standard or objective as follows (if a student earns a zero, this indicates the student has not attempted the assessment or practice):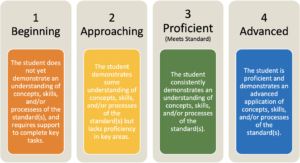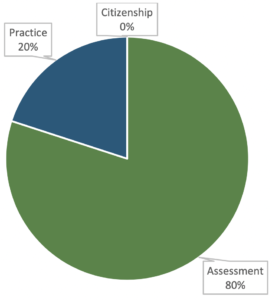 In the event a student does not demonstrate proficiency via an assessment, the student is welcome to retake an assessment as long as the student completes the assigned learning tasks (practice) designed to help them understand and develop proficiency on the learning objectives for the standard.  Assessments will make up 80% of a student's academic grade and will reflect the student's level of proficiency on particular standards and/or objectives. Academic practice will make up the remaining 20% of a students academic grade. Citizenship will be listed as a separate category in the gradebook. The citizenship category will not be included in your student's academic grade, but will be reflected in the citizenship grade they earn for the class. 
While our intent is to focus solely on our students ability to demonstrate proficiency on the standards for each of their classes, we are aware that this is a new way of talking about learning. To that end we have included the conversion scale we will be using to equate our students levels of proficiency with a letter grade. In our research and discussion we feel this is the best place for us to start. We will continue to discuss and evaluate our grading scales and welcome your input. 

---
Online Registration
Read and review the information below. Complete forms or steps as necessary.
Log in to Skyward with a Parent account. Update your contact and other information. Please be sure to enter a valid email address! If you have lost or do not remember your Parent login, you can use the "Forgot Password" link or contact the Main Office.
Pay school fees. Details on school fees can be found here at the "Jordan Fees" website. Fees can be paid online with a credit card or in person in the Main Office with card or cash. Unpaid student fees may be referred to collections by the end of first quarter.
---
Fee Payment
School fees can be paid online with a credit/debit card or in the Main Office with cash or a credit/debit card. School lunch deposits can be made online using the eFunds site (accessed through Skyward) or can be paid in cash in the Main Office (we cannot charge lunch deposits to a credit/debit card in the Main Office).
Fee Waivers
Fee waivers are available for those who meet certain income or eligibility requirements. If your student was on a fee waiver at Sunset Ridge Middle School last year, they will continue to be on a fee waiver this year. New family members (younger siblings or others attending SRMS for the first time) must submit a new application.
Please complete the entire fee waiver application (FRONT AND BACK) and attach the necessary documentation.
English Fee Waiver Application
Por favor complete el formulario completo (FRENTE Y ATRÁS) y adjunte la documentación necesaria.
Spanish Fee Waiver Application
---
Schedules
Once you have completed the Online Registration process, your student's schedule and locker should be visible in Skyward in their student account. PLEASE NOTE: We are still working to balance class sizes and enroll new students, so your schedule is still subject to change!
---
Lockers
All students will have their own locker. Locker assignments will not be made until approximately one week before the start of school (prior to the scheduled Walkabout day listed below). Locker information will be available in Skyward through a Student Access account.
---
Student Handbook & Class Rules and Policies
The student handbook is accessible online here. A form will be sent home on the first day of school for parents and students to indicate that they have reviewed these policies.
Rules and policies for individual classes will be provided by teachers at Back to School Night and on the first day of school. These will be accessible in at least one of the following ways:
On a teacher's class website, linked from the school website
In a teacher's Canvas or Google Classroom page
In a Google Doc or other similar file, linked from the school website
As an attachment to an assignment in the "Practice" category in Skyward
---
Walkabouts
This year we will have one session of walkabouts for students to come and locate classes, open lockers, and familiarize themselves with the building. This session will be Monday, August 12, from 9 AM to 2 PM (an Immunization Caravan from Community Nursing Services will be held from 9-11 AM).
August 12 is the first contract day for teachers; as such, some pods and areas of the building may not be accessible to students due to meetings and other preparation.
Before and after the scheduled walkabout, the building is not open to students due to ongoing maintenance and teacher preparation.
---
Seventh Grade Orientation
Seventh Grade Orientation will be held on Monday, August 19. School will run from 7:50 to 11:50. No meals will be served. Students who are assigned to ride a bus will be picked up at their regular times and dropped off at the end of the day.
Seventh Grade Orientation is for seventh graders only! We promise to take good care of your student! On this day, seventh graders will:
Meet their teachers and attend all their classes
Learn to open and close their lockers
Learn how the cafeteria works and how to enter their lunch numbers
Meet classmates and begin to build friendships
Learn about Sunset Ridge and where to go for information and help
Learn about middle school and the ways that each student can help to build a positive environment.
---
Back-to-School Night
Back-to-School Night will be held on Monday, August 19 from 6-7:30 PM. The evening will begin in the auditorium with a brief introduction by principal Kim Searle. Attendees will then rotate through all seven periods in order in 5-7 minute rotations to hear information from classroom teachers.
---
Immunizations
All students must provide documentation of having received required immunizations. Read the list of required immunizations here.
---
Community Council
Community council meetings will be held several times throughout the year. Parents are elected to a two-year term and can serve up to three consecutive terms. Parents and community members who are not elected to an open council seat are still welcome to attend meetings.
The meeting schedule will be determined by the start of the school year and will be posted here and sent to parents via email and social media.
We are in need of at least five parents to serve on the School Community Council. If you are interested in a position, please complete this form. If more than five individuals complete the form, an election will be held at Back-to-School Night. Applications will be accepted until 3 PM on Friday, August 16.
---
PTSA
PTSA memberships can be added during the Online Registration process. A membership costs $6 and a portion of the membership fee is returned to the PTSA at Sunset Ridge Middle School to support school programs and activities. Parents and students are welcome to join and help support the PTSA in supporting public education.
Memory books are also available for purchase during the Online Registration process.
PTSA memberships and memory books will not be automatically added to your school fee payment. You must add these items separately and they must be added for each student/family member. 
---